Login as student
As a teacher, you want students to be able to work in Bordfolio themselves.
To allow students to work with Bordfolio themselves, students must be logged in. This way the system knows which child is using Bordfolio.
This can be done in 3 ways.
Log in with email address or username
When students have their own email address, they can log in both at school and at home. Students can also request a new password in case they have forgotten it (they will then receive an email with a link to choose a new password).
To let students log in with their email address, go to 'Admin', submenu 'Students'. Click on a student and you can enter the email address and password.
Students do not have an email address? But you want them to log in from home as well? Then you can give them a username, for example: suzanne.w@our-school. The difference with an email address is that students cannot reset their password themselves, this must be done through the administrator. They also cannot receive notifications of assignments that have to be submitted.
Log in without email address or username (log in as school)
You can also log in without an email address or username.
Students can choose themselves by choosing their photo and then only have to enter their password.
To give students a password, go to 'Admin', submenu 'Students'. Click on a student, enter a password and choose 'Save'.
Then choose 'Let students plan' under Planboard or 'Let students upload' under Portfolio and a list of photos of students will appear. The student chooses oneself and can get to work.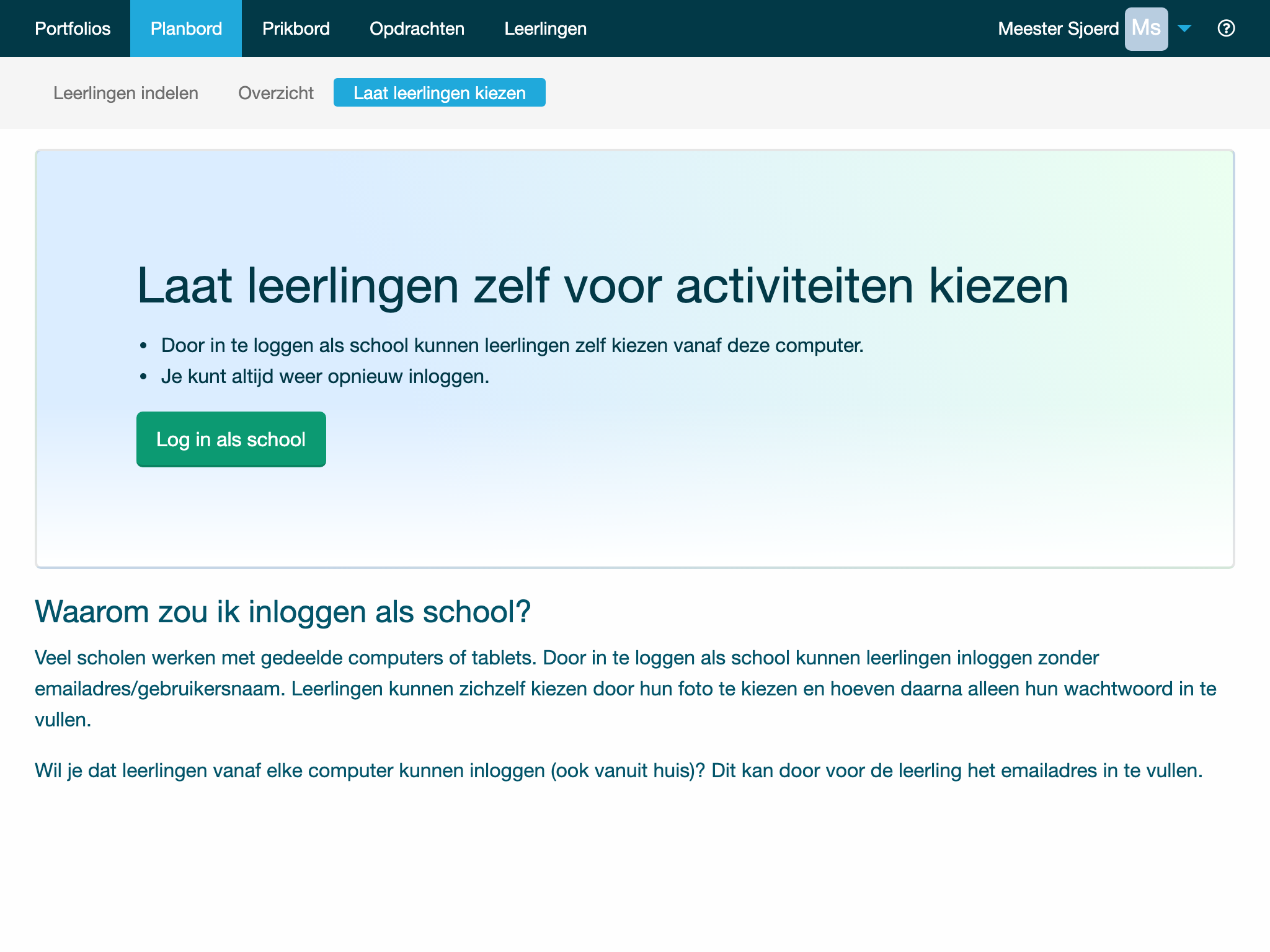 Log in with one-time-only or reusable QR-code
It is also possible to use a QR-code to log in.
Go to the menu Admin and click on a student. Click on 'Login Student' and the QR-code will be shown. Let the student scan the QR-code and she/he will be logged on.
There are two variants of logging on with a QR-code. The one-time-only QR-code and the reusable QR-code. You can set the option yourself. Go to 'Admin' -> 'School'. At the bottom of the page there you will find the option.
The reusable QR-code is linked to the school's IP address. The link is necessary for security, someone from outside the network cannot use this code.